How to Deposit Cryptoasset
1. Log in​
Log in to your AmPmCx account.
2. Select "Deposit"​
Navigate to the "Funds" button on the top navigation bar and select "Deposit".
3. Deposit Page​
You will be directed to your Bitcoin deposit page.
4. Select Cryptoasset​
Enter into search the name of your desired cryptoasset and select the intended asset from the dropdown list.
5. Total Balance​
The top section of your deposit page shows the total balance of your cryptoasset.
6. Deposit Details​
The middle section of your deposit page contains blockchain-specific information:
Blockchain: The blockchain the cryptoasset belongs to.
Average wait time: The estimated time required for a transaction to be confirmed n times.
Min. Deposit: The minimum deposit amount to be credited.
Min. confirmations: The minimum confirmations required to be confident that a transaction has been added to the blockchain.
Est. network fee: The estimated transaction cost required by the network. This fee varies depending on network traffic. Congestion drives up network fee.
Deposit address: Your cryptoasset deposit address.
Reminder: Send only the intended cryptoasset to this address.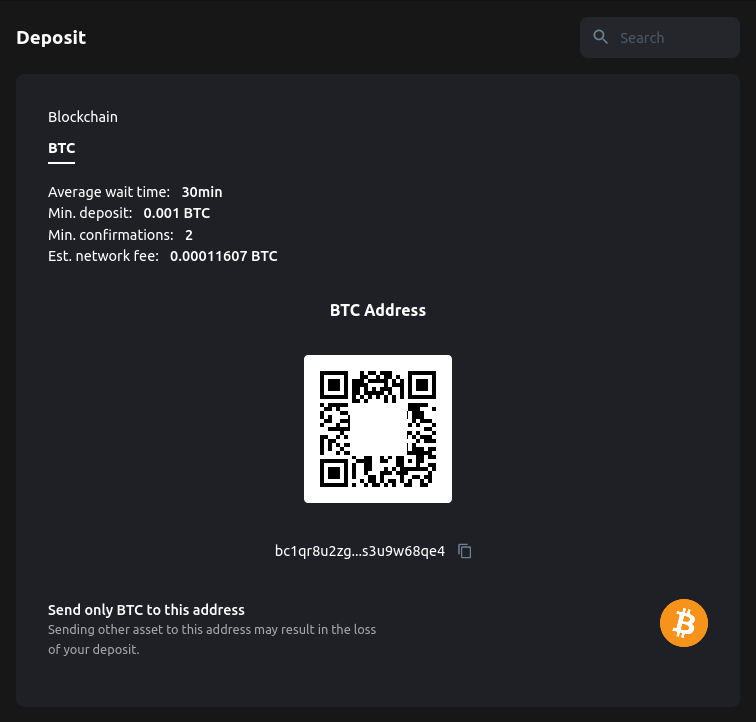 7. Scan QR / Copy Address​
Scan the QR code or copy the address to your external wallet to make a deposit.
8. Wait for Deposit​
Wait for you deposit to arrive. Blockchain operations may take longer than expected at times of high network traffic. See what to do if your deposit does not arrive.
9. Deposit Fee​
We do not impose any deposit fee. Check out our fee schedule for more information.
tip
Depositing ERC-20 tokens requires ETH. In addition to the tokens, you need to deposit a small amount of ETH (estimated network fee) to the same address.
10. Deposit History​
The bottom section of your deposit page shows your recent deposits.